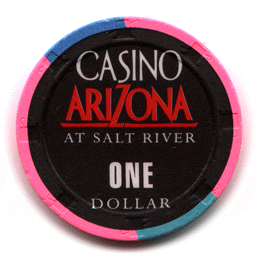 The evening of Tuesday, May 23, I'll be arriving in Phoenix to speak Wednesday morning at the BFMA Symposium on
MS Word as an E-Forms Design Tool
. Thursday afternoon, I'm giving another lecture,
Advanced MS Word E-Forms Design
. Between the two talks, I'm considering participating in the BFMA's
Wednesday night outing
(.pdf) to Casino Arizona.
The trip to the casino isn't an optimal situation. The (free) bus leaves the conference hotel at 6, and will leave the casino at 11. As best as I can tell from my 'net searching, the casino that the bus takes us to doesn't have poker tables; the poker room is another couple of miles up the road. This is in spite of the PDF flyer linked above ("Guests will find ... 50 poker tables ... There's also a mahogany paneled high stakes poker room.") I wouldn't doubt that there's a shuttle between the two, but there's no guarantee. Net rumor is that the lowest limits are $3/$6 tables, and I've barely enough of a bankroll (maybe $100) to attempt that. The last time I tried that with a Benjamin, I was broke in 20 minutes. Net rumor is also that these are the toughest tables in the state.
Included in the casino trip are the bus ride, a free celebrity impersonation show (yawn), maybe hors d'oeuvres, but not dinner (which I can expense).
I'll have a rental car, if I want to blow this off and go elsewhere. There's other casinos in the area, but I've been unable to find any poker tables below $3/$6. That's not to say they don't exist -- on-line listings of brick and mortar casinos are notoriously outdated, and it's tough to find details on them among the avalanche of false hits on e-poker sites.
I'm seeing a handful of choices:
1) Go on the Wednesday night trip, blow off the show, catch the shuttle to the poker room, play until the money's gone or until I get tired, then catch the shuttle back to the bus by 11 (or catch a cab if the game's juicy enough to stay). Could be a quick trip.
2) Go on the Wednesday night trip, catch the show, play blackjack until the money's gone.
3) Go to the poker room on Tuesday night and test the waters. If the money runs out, then skip the Wednesday night trip and play online from the hotel room. If not, goto 1. (Drawback -- if I do really well Tuesday, I won't want to leave, and I'll have to give a groggy lecture at 8:30 the next morning. Bad move.)
4) Take most of my bankroll, get a tee time, and spend my money on a Wednesday round of golf at a local course. Then go on the Wednesday night trip and play penny slots for a couple of hours.
5) Something else.
Which one should I do?